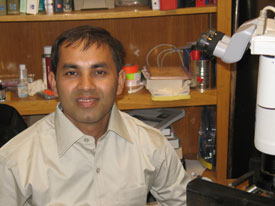 Contact address :

Morshed Khandaker, PhD
Associate Professor
Department of Engineering and Physics
University of Central Oklahoma
100 N University Drive
Edmond, OK 73034
Phone: 405-974-5935
Fax: 405-974-3812
Email:mkhandaker@uco.edu

News and Events:

Oct 3, 2013. Morshed Khandaker and Stephen Ekwaro Osire, "Weibull Analysis of Fracture Test Data on Bovine Cortical Bone: Influence of Orientation," accepted in International Journal of Biomaterial.

Oct 1, 2013. Morshed K., Melville B. Vaughan and Binil Starly, "The influence of MgO nanoparticles on the osseointegration of polycaprolactone - sodium alginate hydrogel interfaces," Published in British Journal of Applied Science & Technology.

July 3, 2013. M. Khandaker, A. Williams, K. Azartash, Z. Azartash, and K. Tran technical paper titled "Mechanical effectiveness of polyvinyl alcohol/polyvinyl pyrrolidone (PVA/PVP) as an Intervertebral Disc Polymer" accepted and will be presented in ASME 2013 IMECE conference, San Diago, CA.

June 28, 2013. Utsaha K.C. presented research titled "Effect of fibers on the fracture strength of implant-cement interfaces " in 2013 ASME summer bioengineering conference, Sunriver, Oregon.

May 5, 2013. Kooroush, Zheila, Kheit and Aston group project titled, "Design and Construction of a spine simulator to test an intervertebral disc (IVD) polymer," received the 1st prize in Sr. design project research in the catagory of biomedical engineering.

April 21, 2013. Jeremiah White, Mel Vaughan,Ozlem Yasar and Morshed Khandaker article titled "Tissue Engineered PEDGA Hydrogel Cell Viability Analysis: Effects of Networked Structure, Photoinitiator Concentration, and Incubation Time" paper accepted in Journal for Undergraduate Research, 1(1),2013.

April 10, 2013. Dr. Khandaker received UCO academic affairs faculty merit credit awards in the catagory of Teaching.

March 31, 2013. Dr. Khandaker received OKINBRE grant of amount $34158 for research titled "The impact of nanofibers on the failure functions of Titanium/cement interface".

March 4, 2013. Morshed Khandaker, Yanling Li, Tracy Morris research article titled, "Micro and nano MgO particles for the improvement of fracture toughness of the bone-cement interfaces," published in Journal of Biomechanics, 46(5).