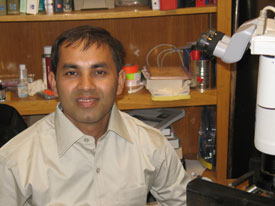 Contact address :

Morshed Khandaker, PhD
Associate Professor
Department of Engineering and Physics
University of Central Oklahoma
100 N University Drive
Edmond, OK 73034
Phone: 405-974-5935
Fax: 405-974-3812
Email:mkhandaker@uco.edu

News and Events:

August 21, 2016. Khandaker M, Riahinezhad S, Li Y, Vaughan M, Sultana F, Morris T, Phinney L, Hossain K. " Plasma nitriding of titanium alloy: Effect of roughness, hardness, biocompatibility, and bonding with bone cement ." Bio-Medical Materials and Engineering, Accepted for publication.

June 12, 2016. Awarded with a U.S. patent titled, "Method and Apparatus for Controlled Alignment and Deposition of Branched Electrospun Fiber."

April 22, 2016. Best Senior Engineering Design Project Award winner, Fabrication and testing of a pressure sensor for intradiscal pressure measurements.

April 21, 2016. Received a NIH grant via OKINBRE-small equipment grant program to purchase histology equipments.