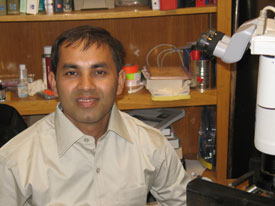 Contact address :

Morshed Khandaker, PhD
Associate Professor
Department of Engineering and Physics
University of Central Oklahoma
100 N University Drive
Edmond, OK 73034
Phone: 405-974-5935
Fax: 405-974-3812
Email:mkhandaker@uco.edu

News and Events:

May 28 , 2014. Khandaker M, Vaughan M, Morris T, White J, Meng Z, " Effect of additives particles on mechanical, thermal and cell functions properties of poly (methyl methacrylate) cement," published in International Journal of Nanomedicine. (Download link)

May 13 , 2014. Received UCO oncampus interdisciplinary grants of total amount $10k. Co-PIs: Drs. Mel Vaughan and Mohammed Hossan

May 2, 2014. Outstanding BME Senior Engineering Design Project Award winner, Kate Foran, Paul Snow, and Zhaotong Meng, for their project on the Design and Construction of Fatigue Test Setup to Evaluate Fiber Coated Hip Implant.

April 29, 2014. Received NIH grants via OKINBRE programs.



April 1, 2014. Khandaker M, Utsaha KC, Morris T, "Fracture toughness of titanium–cement interfaces: effects of fibers and loading angles," International Journal of Nanomedicine, 2014:9(1), 1689 - 1697. (PubMed download link)

March 15, 2014. Received NIH grant via OKINBRE undergraduate summer student research program of total amount $2,200. This program will support Zhaotong Meng summer research in the lab.